May 3rd, 2016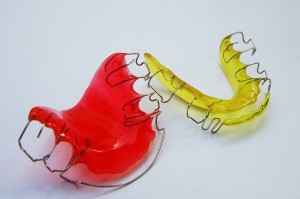 Orthodontic retainers are devices used to minimize the movement of teeth after braces are removed. There is no part of the body that doesn't sag or wrinkle with age. Teeth tend to move too so a retainer is critical to maintaining that beautiful smile. Since you will use this device forever, let's talk about how to keep it clean.
All retainers get dirty and wear out with use. Like contact lenses or shoes that are worn daily, your retainer will get dirty, change in appearance, fit, and may wear out. Bacteria exists in your mouth no matter how much you brush and floss. This bacteria can make your retainer look, taste, and smell bad. Some patients form tartar or calculus (hard mineral deposits) on their teeth and retainers too. It's easier to keep your retainer clean before all this bacteria, plaque, and tartar build up.
Here are some tips to help keep your retainer clean:
Clean your retainer as soon as you remove it from your mouth. It's easier to remove debris before it hardens.
Brushing doesn't always remove bacteria from deep crevices so using a denture or retainer cleaner daily is recommended. After removing your retainer from your mouth, drop it into a cup of lukewarm water with one of the "fizzing" tablets and your retainer will taste and smell better the next time you put it in.
When brushing your retainer to remove plaque or debris use a soft brush (like a tooth brush, denture brush, or vegetable brush) with only water or mild dish soap. Using toothpaste can actually scratch the finish on the retainer as it is an abrasive.
If you notice calcium deposits on your retainer that do not come off with brushing or denture cleaner, you may need to ask your orthodontist to help. There are tartar removing solutions that your orthodontist can use in the office to professionally clean your retainer.
If you take care of your retainer, it will look better and last longer.